It's a thick August dusk in Princeton, W.Va., a cicada chorale throttling the evening's serenity as it plays the sun's methodical exit, stage west.
As the day's sun cycle ends, so does live batting practice for the Princeton Rays, rookie-league affiliate of the club's Tampa Bay namesake. A few dollops of sticky teenagers amoeba their way to the dugout while the scrubs du jour lug ball buckets and L-screens.
Two friends linger, the speedy rightfielder pitching to the acclaimed power hitter like Roy Hobbs to the false Bambino. It's a lefty-lefty matchup, but Drew Vettleson has seen what Josh Sale can do to changeups. He grins. Fastball, 89 mph, just off the plate away, sinking action.
Of course, Vettleson has also seen what Sale can do to fastballs. Now he's seen it again. The ball THWACKs off the bat and POPs off the left-field wall almost simultaneously. The hit caroms halfway back to the infield. A pure power hitter putting on an oppo clinic.
Sale takes off his cap, wide smile; Come on, Vetty, tell me that wasn't the 'show-me' pitch.
Laughing, Vettleson waddles off the mound, mocking his muscle-bound teammate and hollers dugoutward, Hey! Cammy! Toss me my leather! He flings the glove from his right hand and puts the new one on his left. Back to the mound.
To the inattentive bystander, what happens next would be a perfectly normal, impressive-but-not-surprising thing for a professional baseball player to do. Had this bystander not seen Vettleson's first lefty offering or failed to notice that he threw it with the wrong hand, the 93 mph right-handed fastball with tailing action back toward the inside black wouldn't be that startling.
Of course, Josh Sale isn't startled. The 215-pound leftfielder opens his hips and unloads on the pitch like a piledriver on a plump grape or Rey Maualuga on any human. It's 389 feet to right-center but Sale's ball clears that by 50.
This bleeding melodrama is a work of fiction, but it's by no means unrealistic. Not only can Vettleson hit at least 89 mph with both hands, but Sale will crush anything his teammate offers. It's not that Vettleson is a bad pitcher, it's that Sale is freakishly proficient with the bat.
The amount of control and power he has with BBCOR bats is unbelievable.
The fact that Vettleson isn't a pitcher also isn't because he's a bad pitcher. It's because he, too is freakishly proficient with the bat—scouts project a long career of .290, 20 homers and 20 steals to go with a strong arm(s) in right field.
Tampa Bay knows how to scout talent (see: Crawford, Upton, Hamilton, Baldelli, Longoria, Price, Niemann, Hellickson, Davis, Jennings, Moore, McGee, Cobb, Colome, Torres, must I continue?), meaning Sale and Vettleson—two Rays 2010 first-round picks—will likely start for the big club within four years.
What's the connection here? What's the point?
Both 20-year-old top prospects are Washington state baseball products, and they're not alone. Well, I meant they're not alone in minor league baseball, but no, they're not alone on the Princeton Rays, either. Washington-born top-100 2011 draft picks Ryan Brett and Jeffrey Ames join the aforementioned corner outfield tandem in West Virginia. First-rounder Blake Snell of Shorewood is playing for the Gulf Coast Rays, one level down. More Washington-born talent speckles top prospect lists nationwide.
You've seen the All-Contemporary Team. This is the All-On-Deck Team. We takin' over.
See it after the jump.
THE ROTATION


1 RHP Trevor May, High-A Clearwater Threshers (PHI)
Born: Kelso, 1989. Kelso '08.
2008: 4th round/136th overall by Philadelphia.
Trevor May is on fire. The 6-feet-5 right-hander ranks second among all minor leaguers in strikeouts (159 in just 119.1 innings) and has struck out at least six batters in 17 of his last 18 starts. That includes performances like these:
June 22: 7.0 IP, 0 ER, 1 H, 2 BB, 14 K
June 2: 8.0 IP, 0 ER, 2 H, 1 BB, 12 K
July 24: 6.0 IP, 1 ER, 5 H, 3 BB, 11 K
July 9: 7.0 IP, 0 ER, 1 H, 2 BB, 9 K
He possesses a plus fastball that sits around 92-94 mph with plus movement, an average change and a much-improved 12-6 curve, but May's turnaround from a subpar 2010 is a direct result of improved command. Last year, he walked 61 batters in 70 high-A innings, offsetting his gaudy strikeout numbers. This year, his K/BB is 3.00, more than double the 1.41 he put up last year. His ERA is down about a run and a half as a result. Still just 21, he is a very attractive trade piece and as such was seriously discussed in the Hunter Pence deal. He's won minor-league championships in each of his three seasons.

2 LHP Blake Snell, RK Gulf Coast Rays (TBR)
Born: Seattle, 1992. Shorewood '11.
2011: 1/52 by Tampa Bay.
A tall, skinny lefty with a good fastball and a decent curve, Snell put up laughable numbers for 24-3 Shorewood (8 earned runs in 56 innings and 118 strikeouts) using a plus fastball and an average curve. He's comfortable around 91 mph but apparently can reach 95—scouts' concern is that he won't be able to maintain 91-93 mph throughout 150-200 innings because of his lean, 190-pound frame. He committed to the University of Washington but word is he was unable to qualify academically, thus becoming more signable. The changeup could have used some collegiate work, but Snell should be fine.

3 RHP Jeffrey Ames, RK Princeton Rays (TBR)
Born: Vancouver, 1991. Skyview '09, Lower Columbia College '11.
2009: 46/1397 by Philadelphia; 2010: 30/290 by Colorado; 2011: 1/42 by Tampa Bay.
At this point, Ames has one pitch. That pitch tops out at 100 mph and resembles those bullets from Wanted (no, I did not see Wanted. Nobody saw Wanted). The pitch has racked up 25 strikeouts against 6 walks in 19.2 professional innings since Ames signed in late June but has been left up too many times, giving Ames a startling flyball rate and 3 home runs against. Ames also throws a curveball and a changeup, but they aren't much at this point. If he can refine those pitches, he'll really be something. If not, he projects as a closer (and could still really be something).

4 LHP Ryan Verdugo, AA Richmond Flying Squirrels (SFG)
Lake Stevens '05, Skagit Valley College '07.
2005: 43/1293 by Philadelphia; 2007: 47/1378 by San Francisco; 2008: 9/267 by San Francisco.
Verdugo has been successful in all four of his professional seasons, charging up the Giants' top prospect lists as a starter this year after three dominant seasons as a two-inning reliever. He's used fastball-changeup-slider to strike out 275 batters in 217 career innings and debuted a cutter last month to nice results. His seven-inning fastball is in the high 80s with good movement but he makes his living with his plus changeup arm action. He isn't walking as many batters as last year in A-ball (4.1 BB/9, down from 5.6) but must continue that trend to succeed at higher levels. There are worse things to be than a bright, charismatic dude who works hard and wins.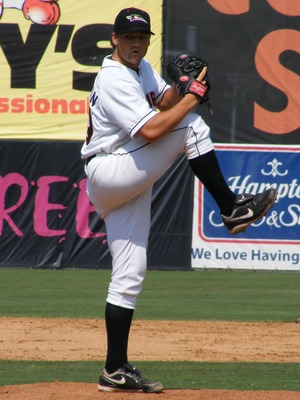 5 LHP Nick Haughian, High-A Frederick Keys (BAL)
Born: Bellevue, 1987. Marysville-Pilchuck '05, University of Washington '08.
2008: 9/266 by Baltimore.
Haughian's virtues were on stunning display July 23. He used just 85 pitches in a three-hit shutout of the Myrtle Beach Pelicans, allowing five baserunners but inducing three double plays. He never threw more than 13 pitches in an inning. He won't strike out as many hitters as May, Snell, Ames or Verdugo but he can be just as effective by changing speeds and locating his fastball.
THE BULLPEN

CL Steven Ames, AA Chattanooga Lookouts (LAD)
Born: Vancouver, 1988. Hudson's Bay '06, Gonzaga '09.
2009: 17/517 by Los Angeles Dodgers.
Steve Ames doesn't do a lot other than produce. In 95 career innings across four levels, he's posted the following stats: 2.18 ERA, 0.96 WHIP, (and here's where I would start using capital numbers if that were possible) 1.48 STRIKEOUTS PER INNING AND 8.29 STRIKEOUTS PER WALK. I'll wait for your eyeballs to return to their sockets. Ames uses a tailing low-90s fastball and a good slider at varying speeds. He has 36 career saves AND he gets to wear this. Some guys just have it all.
LHP Nick Hagadone, AAA Columbus Clippers (CLE)
Sumner '04, University of Washington '07.
2004: 36/1083 by Seattle; 2007: 1/55 by Boston.
As with Trevor May, so with Hagadone. Baseball America's No. 44 prospect going into 2010, Hagadone's star fell somewhat after a year of 1.58 WHIP, 1.41 K/BB and 9 wild pitches spent between the rotation and the bullpen. This year, the 6-feet-5 lefty found a home in relief and let his plus-plus biting 98 mph fastball loose. The WHIP is down to 1.11 and he has 61 strikeouts against 14 non-intentional walks in 56.2 innings. His exertive delivery and lights-out heat seem to shout "Eighth inning!" but if he can develop his hard slider—he attributes some of his success this year to staying away from the slider, instead going fastball-changeup—he could still project as a starter.

RHP Duke Welker, High-A Bradenton Marauders (PIT)
Woodinville '04.
2004: 34/1023 by Seattle; 2005: 39/1163 by Seattle; 2007: 2/68 by Pittsburgh
Welker was Baseball America's ninth-ranked Pirates prospect in 2008 and is finally starting to emerge from the absurd walk numbers that limited his effectiveness since then. His sharp overhand curve and natural leverage at 6-feet-7 allow him to maintain a strong groundball rate and decent strikeout numbers when coupled with a low-to-mid-90s fastball. These walk stats are ridiculous though: he's more than halved his walk rate since last season AND HE'S STILL AT 4.6 PER 9.
RHP Chris Scholl, AA Arkansas Travelers (LAA)
Born: Tacoma, 1987. Stadium '06, Green River Community College '08.
2008: 8/259 by Los Angeles Angels
Scholl recovered from shaky starts in 2009 and '10 to post excellent second-half numbers, but he's got nothing to rebound from this year. In 50.1 innings at double-A Arkansas, Scholl has posted a 2.32 ERA, 1.03 WHIP and 3.29 K/BB. He has a very deceptive (if a little flat) changeup to go along with a low-90s fastball, sinker and 2-7 curve. If he continues to improve as he advances, he could find himself in a major-league bullpen by 2013.
RHP Cody Hebner, Low-A Eugene Emeralds (SDP)
Born: Auburn, 1990. Auburn Mountainview '09, Green River '11.
2011: 4/143 by San Diego.
Hebner strikes out a lot of hitters with a fastball sustainable at 93 mph and a split, curve, change and slider. He set a school record with 95 strikeouts in just 82.2 innings this year and spurned a scholarship to Arizona State to sign with the Padres. He was the SPSL 3A Player of the Year in 2009.
RHP Julian Sampson, IND Brockton Rox
Born: Issaquah, 1989. Skyline '07.
2007: 12/383 by Philadelphia.
I didn't include any other independent leaguers on this list because those guys tend to be career minor leaguers ("system guys") at best. But Sampson has all the tools. All of them. He still has a shot at the majors if he can figure it all out—at 22, he still has an excellent fastball, good slider and good curve. He was released because of all this.
RHP Mason Tobin, Texas Rangers
Kentridge '05, Everett Community College '07.
2005: 15/467 by Atlanta; 2006: 45/1356 by Atlanta; 2007: 16/508 by Los Angeles Angels.
Mason Tobin has had an unconventional professional career thus far. Drafted as a lights-out starter with 93-95 mph heat, where'd-it-go sinker and dastardly slurve, he was very effective in the low minors in 2007 and '08. Then things got a little weird. He pitched just three innings of high-A-ball in 2009 before Tommy John surgery knocked him out for the next two seasons. Normally, post-TJ pitchers are demoted upon recovery to re-acclimate to live pitching. Instead, Tobin skipped two levels and next pitched in the major leagues. As the Rangers' 2010 Rule V selection, Tobin needed to log 90 days on the active roster to avoid being shipped back to Anaheim. Instead, he tore his ulnar rotator. He had a second Tommy John surgery on June 2 and hopes to return in late 2012.
Check out the hitters in Part IIB!
–Erik Kariya (@EntendreDaGiant)